The Dam Breaks
As the Guangdong mission was making its report, WHO Country Director Bekedam received an unexpected invitation: Vice Premier Wu Yi wanted to meet, that day. Madame Wu was a leading member of the government (one of four vice premiers) but, more importantly, she was a member of the powerful Communist Party Politburo. Among other accomplishments, she had led the negotiations for China to join the World Trade Organization. "She had quite a good reputation for getting things done," says Schnur. "I think she really wanted to have another outside, objective opinion" on SARS.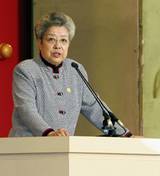 Wu meeting. Bekedam had only about 90 minutes' notice of the meeting—but he was ready. He took with him the available members of the Guangdong mission, including Dr. Evans, Dr. Maguire, Dr. Preiser, Schnur and Dr. Li. A delegation from the Ministry of Health was also in Vice Premier Wu's office. "I missed the minister, and I saw a new guy whom I didn't know," adds Bekedam.
Madame Wu asked the WHO team to describe what it knew about SARS in China, and listened carefully. "I think I made 12 points with her. I was scribbling while we were driving to the place," he says. Madame Wu was "very practical, quite direct, actually taking on things and ready to accept advice," In China, he explains, officials are unusually alert to hidden agendas. "I think by that time, it was already clear to them that we as WHO didn't actually have a hidden agenda, that this was big globally." The meeting lasted about an hour.
Jiang. There had been a key development the day before. On April 8, Time magazine reporters had interviewed and published a letter from a senior military doctor and Party member, Yanyong Jiang, which claimed the government had concealed the number of SARS cases in Beijing, specifically in its military hospitals.[27] Instead of the officially announced 19 cases, Jiang said there were another 60 in one hospital alone (No. 39 People's Liberation Army Hospital)—and that seven had died. Doctors and nurses were among the afflicted.
Jiang said that military hospital medical staff had been briefed at the start of the National People's Congress in early March on the dangers of SARS, but instructed not to publicize what they knew. "As a doctor who cares about people's lives and health, I have a responsibility to aid international and local efforts to prevent the spread of SARS," Jiang wrote. The letter caused an uproar internationally and fueled accusations that China had willfully withheld key information that could have stemmed the outbreak earlier and saved lives.
Within days, China had shifted its response to SARS. On April 12, Premier Wen Jiabao conceded publicly that the SARS threat was "grave" and pledged that the government henceforth would "speak the truth." After SARS rose to the level of the premier, remembers Bekedam, "within 24 hours there was an agreement that every day we would get a full reporting on new cases… The numbers starting going up very quickly." On April 13, President Hu Jintao said on state TV that he was "very worried" about SARS. He called for screening train and boat passengers for SARS and quarantining any suspected cases. Facilities were in place the next day at Beijing's West Railway Station, among others.[28] As of April 15, China reported, 64 had died nationwide from SARS (it also reported cases in Inner Mongolia). On April 16, WHO confirmed that the new coronavirus was the cause of SARS. Internationally, SARS cases had been reported in 19 countries on four continents.
---
[27] Susan Jakes, "Beijing's SARS Attack," Time, April 8, 2003. Jiang had sent his statement first to Chinese news outlets, which did not publish it. It then found its way to the Western media; the first to contact him was the Wall Street Journal. See: www.time.com/time/printout/0,8816,441615,00.html.