Looking for Whitman Using Social Media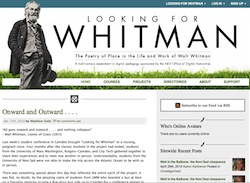 Last fall, Professor Matthew Gold of New York City College of Technology (City Tech), led students in a collaborative multimedia project called "Looking for Whitman: The Poetry of Place in the Life and Work of Walt Whitman." The NEH-supported project was designed around an open source website that connected students from four colleges (City Tech, New York University, University of Mary Washington, and Rutgers) located in areas connected to Whitman's life. Students studied Whitman's poetry, researched and visited locations related to his life history, then used social media tools such as WordPress, MediaWiki, Flickr, Twitter, YouTube and Google Maps to create videos and other media related to their research.
Recently, students of the class gathered for a conference to discuss their findings and multimedia work and bring the project to a close. Professor Gold, reflecting on the success of the project and the intensity of the student interest that the class generated, noted, "There was something special about this day that reflected the entire spirit of the project...They came into the room wearing Whitmanic beards, clutching their texts, brimming with excitement."
To learn more about this collaborative project, visit the Looking For Whitman site.