Evaluating Student Work in a Blog
The Chronicle of Higher Education's ProfHacker column released an article about rubrics for evaluating student blogs. It's important to be clear with students about how their work will be evaluated, especially if that evaluation happens in a "public" forum (even if that forum is restricted to just members of a class).
The article has some good suggestions and members' comments lead to some other rubrics and guidelines for evaluating students' work. Regardless of the guidelines that faculty choose, the nitty-gritty of finding and evaluating individual student work remains.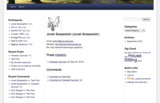 To help instructors with that evaluation process, CCNMTL developed a WordPress plug-in called the "participants" page. The participants page creates an overview where an instructor (and student-peers) can see all posts and comments by an individual class member. This collection of links is a convenient jumping-off point for you, as instructor, to access each post by a specific student and commence your evaluation efforts.
Administrators who run educational WordPress systems of their own can learn more about the technicalities of the Participants Plugin in Jonah Bossewitch's article on our sister blog, CompilED.