Videoconferencing Classroom Scenarios
Using video to have a live conversation with a distant party once required expensive, dedicated videoconferencing equipment. While such systems continue to offer the highest-quality video and audio available, recent developments have brought videoconferencing to the masses. Today, just about anybody with a computer, an Internet connection, a microphone, and a webcam can easily connect with colleagues and students using free or low-cost desktop and web-based videoconferencing tools.
This article will outline three scenarios that will help faculty and students who are considering incorporating videoconferencing into their academic work.
Scenario 1: Point-to-point connection


First, a point-to-point connection is a very simple way to connect two sites using a free video-chat tool, such as Skype, iChat, or Google Chat. After creating an account (and, in some cases, downloading free software), a user can immediately start connecting with a remote colleague anytime both users are signed in to the system.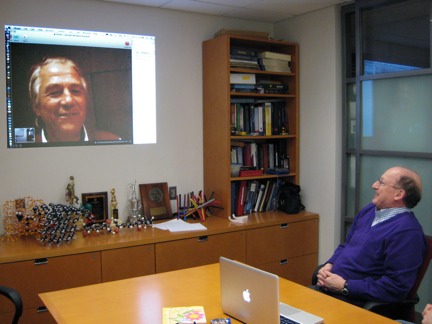 In this image, Columbia professor Nick Turro (Chemistry) uses Skype to discuss research with a colleague at the University of Innsbruck, Austria.
Other educational point-to-point activities:
Have a real-time video conversation with a research partner, without incurring long-distance costs;
Hold office hours with off-campus students;
Enable an out-of-town team member to attend a meeting;
Invite a guest lecturer to speak to your class.
Scenario 2: One-to-many connection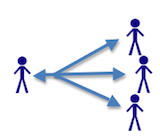 A second scenario covers the cases in which there are two or more endpoints (a user is connecting with multiple parties via videoconferencing). A one-to-many scenario may emerge when the aim is to engage several remote groups of students or colleagues in a lecture or presentation. Depending on a project's specific requirements, several free tools exist that can help meet various needs, whether by giving priority to presentation-sharing, the delivery of remote lectures, or screensharing for remote online demonstrations. While video is incorporated into these tools, it is often limited, for example displaying a maximum of one or two of the connected parties via postage-stamp-sized video. The other participants communicate with the group via other means, such as text and audio chat.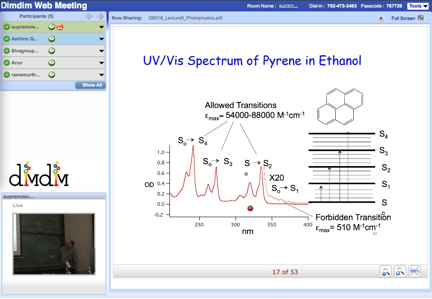 This image shows a live lecture, held in a Columbia classroom, being shared with groups of students in Florida and North Dakota using the free web service DimDim. The professor's slide presentation takes up the main panel, while live video of the lecturer is on the bottom left. The connected classrooms and individuals are listed at the top left.
Scenario 3: Multipoint connection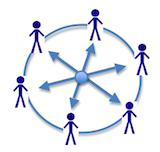 Any case in which a live video discussion is to be held among parties at multiple locations calls for a multi-point video connection. In contrast with a point-to-point connection (Scenario 1), the video will display multiple video feeds (rather than just one) in each direction. And in contrast with the emphasis on the one-to-many "live broadcast" presentation-sharing model (Scenario 2), in this third scenario the emphasis is on live, video-enabled discussions among the participants.
Several free tools have recently entered this spectrum, such as Tokbox, which allows up to 20 simultaneous users to be connected via video, and Apple's iChat, which can connect up to four users. Another contender is EVO, developed at CalTech for remote Physics collaborations (and now open to the world). For the most robust suite of options, however--including session moderation and scheduling, external telephone line integration, and seamless incorporation of presentation and collaboration tools--it often pays to upgrade to one of the fee-based videoconferencing platforms, such as Adobe Acrobat ConnectPro, MegaMeeting, or Elluminate Live!. With all these tools, a paid "host" account allows participants to join the host's sessions for free. These tools have reasonable higher education pricing, and most offer a free trial period to new users.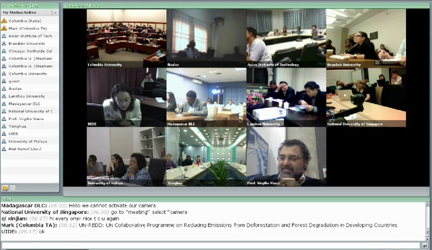 In this image from a global discussion held using Adobe Acrobat ConnectPro during one of Columbia's "Global Classroom" sessions, a student from UIDE in Ecuador (middle row, left) poses a question to Professor Virgilio Viana in Spain (bottom row, right) as classrooms of students and faculty at universities in China, Madagascar, Malaysia, Nigeria, Singapore, Thailand, and the U.S. listen in.
Other Suggestions for Effective Videoconferencing:
use a projector and speakers for any point that includes more than two people;
a noise canceling microphone can greatly improve sound quality by eliminating feedback;
or, better yet, use a microphone and heaphones for the best audio quality;
if you are engaging in a complicated, multi-site session, consider using an "operator" who can help orchestrate connections and bring comments/questions to the speaker's attention;
keep in mind that many services offer a "call in" phone number, but that the audio channel that users experience on the telephone is not "bridged" into the online conference audio, rather it is an entirely separate audio channel;
consider using a combination of tools (e.g. if the audio quality of one tool is not sufficient, employ another tool with better audio alongside).
As you start to develop your own videoconferencing plan, the following considerations can be helpful in framing your needs:
Project activities: What activities do you plan to conduct during the live video element of your project?
Scope and scale of need: How many parties (connections) will be conferencing in any one session? How many members of your group will be "initiators" of videoconferencing sessions? Do you foresee a need for simultaneous sessions (multiple conferences occurring at the same time)?
Video requirements: Is it important that each party be able to be seen on video, or could some parties be connected by voice and text only?
Recording/archiving: Do you need the sessions to be recorded for playback later?
Ease of use: Is the tool to be used by a dedicated group of users (who might be able to invest time to learn a new technology), or will your group include casual or intermittent users as well?
Budget: What is your budget for the videoconferencing element of your project?
For additional help and advice with videoconferencing for your course, contact CCNMTL (ccnmtl@columbia.edu).
Referenced links:
Skype: http://skype.com
DimDim: http://dimdim.com
Tokbox: http://tokbox.com
Adobe Connect: http://www.adobe.com/products/acrobatconnectpro/