Biography: SantiagoLyon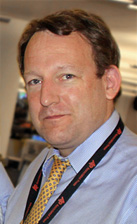 Santiago Lyon became APs director of photography in 2004, having spent 19 years as a news photographer and director for United Press International, Reuters, and the Associated Press, which he joined in 1991 in Cairo, Egypt. He covered stories and conflict in Mexico, Central and South America, Croatia, Bosnia, Albania, Kosovo, Israel, Palestine, Libya, Syria, Iraq, Somalia, Rwanda, Yemen, Sri Lanka, and Afghanistan. In 1995, while on assignment in Sarajevo, he was wounded by mortar shrapnel.
Lyon was APs photo editor for Spain and Portugal from 1995 until 2003, when he accepted a Nieman fellowship at Harvard University.
Listen to Lyon describe his experience covering and being captured during the first gulf war.