Biography: Tom Curley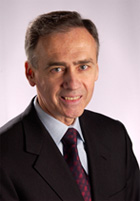 Tom Curley started covering high school basketball for his local paper, the Easton Express of Pennsylvania, at age 15. He continued to work for newspapers throughout college while pursuing a political science bachelor's degree from Philadelphia's La Salle University. Curley also earned an MBA from the Rochester Institute of Technology. He joined Gannett's Rochester Times-Union in 1972 as night city/suburban editor, and in 1976 became director of information for Gannett.
Curley was editor of Gannett's Norwich Bulletin in Connecticut and publisher of the Courier-News of Bridgewater, New Jersey, before becoming the sixth president of Gannett's USA Today in 1986. He became the paper's publisher as well in 1991, and in 1998 added the additional title of senior vice president of Gannett. In 2003, he became President and CEO of the Associated Press.