At Headquarters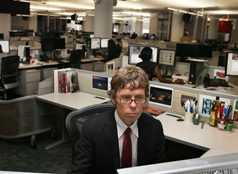 It was Monday morning in New York, and the photo department was in crisis mode. Days earlier, Director of Photography Lyon had taken an emergency trip to Dubai, where photographer Morenatti was recovering from the amputation of his lower leg. Much of the New York office was on edge awaiting news of Morenattis condition, which remained precarious. Photo Desk Supervisor Collins , meanwhile, was at his desk when he received an instant message from Jacobson. There was a picture that she was concerned about, that she felt like people here were going to need to make a decision about whether to move it or not, Collins recalls. Jacobson also explained that writer de Montesquiou was working on a story to accompany it.
Collins viewed the photograph alongside another photo editor. They had the same first reactionthat it was extremely rare to see an image of a Marine dying on a battlefield, and that the photo was important for that reason. Yet on a basic level, it had technical problems. The scene was poorly lit by the setting sun, and the soldiers hurried movements had left blurry traces in the frame. Jacobson had taken the picture from several yards away. Those factors in combination made it difficult to see immediately what the picture showed. Collins says: Its kind of difficult to read, at first, that picture.
Yet there was blood visible and, on closer examination, what looked like bone. The photograph was murky and graphic all at once. Explains Collins:
One of the things that we look at in a picture that has any kind of bodily injury, any sort of person wounded or something like that, we think, OK, is there gore?Is this picture graphic in its depiction of somebody wounded?And does the graphic nature of the picture take over in a way that thats all you see, and it kind of distorts the meaning of the picture? [1]
Collins recalled that shortly after the 2003 invasion of Iraq, a freelance photographer had sent the desk a number of close-up images of wounded or dead Iraqis. Collins opted not to distribute them; in his mind, the photographs were simply disturbing without offering any broader context or narrative. He explains:
Youre looking at it, and youre [thinking] OK, well, it shows some gore, but whats happening here? There are no other elements in the picture to construct a story out of. And when we passed on them, I remember the photographer accused us of censoring.And we werent censoring.We were editing. We were making a decision that this picture just is not a picture. We use that phrase a lotits not a picture. And we mean that its not telling a story or accurately reflecting a scene in a way that conveys information that we need.
On the other hand, Collins had had a hand in distributing many disturbing imagesone of the most affecting of which involved no blood at all. It was an image of a man plummeting headfirst from one of the World Trade Center towers shortly after it had been hit by a hijacked airplane on the morning of September 11, 2001. Sometimes a strong picture that has some content thats difficult to view is important to the whole story, Collins says. I think there is no way of making a picture sometimes not horrifying, and thats because the situation is horrifying If youre really being accurate and telling a story in a truthful way, thats what viewers need to see.
As desk supervisor, Collins himself typically decided whether or not to distributeor moveany given photo. But this photo was not typical.
Listen to Collins describe the job of photo editing.

---
[1] Authors interview with Jim Collins in New York City, on May 27, 2010. All further quotes from Collins, unless otherwise attributed, are from this interview.