The AP in Iraq
AP had numerous employees already working in Baghdad and Kuwait as the United States prepared to invade Iraq in 2003. In February, AP assigned a number of additional journalists, including photographers and videographers, to embed with US armed forces as they prepared and then began the invasion. Among them was Julie Jacobson , who had joined the AP in 2001. In a photojournalism career spanning more than a decade, Jacobson had photographed all manner of bloody scenes while covering hospitals and police. The Iraq war was her first conflict assignment.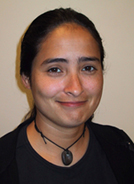 Jacobson's first embed. Jacobson's job as an embedded photographer was to document the daily lives of soldiers at war. She sought images with an eye toward what would best illustrate the stories AP and its member organizations might wish to tell in prose. A photo editor might suggest particular people, things, or events to photograph, but in general Jacobson herself determined which scenes she found newsworthy. She explains:
AP photographers make their own editorial decisions about what to file every day on every assignment they shoot… That editorial decision starts as soon as I begin observing my surroundings, the things happening around me and what I believe the story to be within that environment. I shoot according to what I think the story at the time is, as well as what I believe others may be writing about in relation to that conflict zone. [1]
Having shot several frames of a given scene, Jacobson next examined them one by one to determine which best conveyed the situation as she had perceived it. She says: "I may shoot 30 frames and find that 10 of them are strong story tellers and worth sending. I may shoot 60 frames and find that only five are needed to tell a story and are worth sending." She then cropped and toned the selected pictures on her laptop, composed a caption identifying the photos' subjects, dates, and locations, and sent them to an AP photo desk, where a photo editor selected which to distribute. [2]
In April 2003, Jacobson was embedded with a medical evacuation helicopter squadron—the military's paramedics, who removed wounded Americans and Iraqis from the battlefield and tried to stabilize them en route to a hospital, and who also picked up the remains of the dead. Jacobson witnessed a great deal of trauma and death in this capacity, but one casualty in particular was seared into her memory. He was a Marine who had been shot twice, once in the groin and once in the abdomen; he was wearing hardly any clothing and had no identification. [3] Jacobson took photos as the evacuation squadron carried him on a stretcher into the helicopter and continued to take photos onboard, where a Navy corpsman—a paramedic—worked to help the soldier breathe. She recalls:
As we flew to the mobile hospital I focused my attention mainly on the Navy corpsman tending to [the Marine]. I really couldn't see the wounded Marine well; he had a paper blanket covering him. It was a difficult image to make to convey what was going on because of that, and also the space in which I had to work was limited. It was also just an emotionally difficult situation. But within the 15 or 20 minutes it took us to get to the hospital the corpsman asked me twice to help him. Each time, I put my camera down and did as he requested.
The Marine died before the helicopter reached the hospital. He was the first wounded evacuee the corpsman had lost in his entire career.
That evening, Jacobson sent some of her photos of the day's events to the headquarters photo desk in New York. One of them she had taken onboard the helicopter, from near the Marine's feet; his right arm, dangling from beneath his blanket, appeared in the foreground, and in the background was the corpsman working to save his life. The AP distributed the image without naming the wounded Marine, whom Jacobson had not been able to identify. The Department of Defense did not object.
Jacobson's first embed lasted nine weeks. She returned to Iraq to embed with the Army in Fallujah and Ramadi over January and February 2004. In March, Fallujah became the site of a dangerous turning point in the war when four American security contractors were ambushed and killed by Iraqi insurgents. The event, says Director of Photography Lyon, marked a "sea change" in the war—and in AP's perception of the danger involved in covering it. He says:
Suddenly the situation changed dramatically, and it was no longer safe… for westerners to be moving about the country. So at that point the tactic changed, and we began to use more Iraqi photographers and Iraqi camera people, because it was safer for them to move around the country.
Bilal Hussein. In particular, AP relied on its roughly six Iraqi photographers to document the war from the insurgents' perspective. This practice yielded often controversial images of Iraqi and foreign fighters posing with weapons or attacking US troops and their allies. Some viewed such images as propaganda for the insurgents that undermined the American-led mission in Iraq. Further, insurgents often employed their own photographers to disseminate images of their activities, and the US military often detained Iraqi photographers on suspicion of collusion with the enemy. Explained AP Afghan-Pakistan News Director Bob Reid, who spent more than six years leading AP news coverage in Iraq:
Just about every news organization has had people picked up at one time or another… They put pictures on the Web. And soldiers are told to beware of people out posing as cameramen, so they tend to view with suspicion Iraqis who show up with cameras at bomb sites. [4]
In April 2006, the US military arrested AP photographer Bilal Hussein, a native of Fallujah who had the previous year been part of a team of AP combat photographers that won a Pulitzer for breaking news photography. As his detention stretched on for months with no formal trial in sight, AP lobbied the DoD fiercely behind the scenes to have him released or officially charged with a crime. Five months after Hussein's arrest, AP made public the results of its own investigation, which concluded that the Pentagon had made up or exaggerated its case against Hussein. Said AP President and CEO Tom Curley: "I have no problem saying the Pentagon lied to us more than once." [5] Hussein was released from military custody in 2008, two years after his arrest. A military press release said he no longer represented an immediate threat.
By 2009, five AP correspondents—all of them Iraqi—had died covering the conflict. [6] In total, 140 journalists had been killed in Iraq since the start of the war, 117 of them Iraqi. [7]
---