Biography: Kathleen Carroll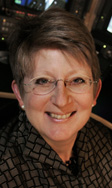 Kathleen Carroll left the Dallas Morning News to join the Associated Press Dallas bureau in 1978. She served as AP's news editor in New Jersey from 1981–1982, thereafter moving to Los Angeles to serve as city editor and assistant bureau chief until 1984. She left AP to become a business editor at the International Herald Tribune in Paris, returning to the US as an editor at the San Jose Mercury News .
After rejoining the AP in Washington, DC, in 1990, Carroll moved to Knight Ridder in 1996, becoming Washington bureau chief in 1999, where she remained until AP hired her as Executive Editor in 2002.