Introduction
For decades, a time bomb had been ticking in the country's prisons. Inmates convicted in the 1980s for a host of crimes from drug dealing to murder had been getting older—and sicker. National estimates put the number of inmates over age 55 at some 125,000 in 2011, with tens of thousands more right behind them. Meanwhile, spending on prisoners had increased 660 percent in 25 years (1982-2006), driven in large part by health care costs. One prisoner needing dialysis three times a week could cost $250,000 a year; for the seriously ill in outside hospitals, expenses could reach nearly $2 million a year, thanks in part to regulations that required two or three guards for each patient, even the comatose.
In California, prisoner numbers had escalated after passage of the "three strikes" mandatory sentencing law in 1994. By mid-2011, the number of elderly (age 55+) inmates in California jails had reached an all-time high of nearly 14,100. Moreover, the California prison healthcare system had been so inadequate that in 2006, after losing a court case, the entire network was placed under the care of a court-appointed receiver. The newly-configured California Correctional Health Care Services (CCHCS) would be administered separately from the California Department of Corrections and Rehabilitation (CDCR). The receiver's mandate was to make prison healthcare fair, competent and cost effective. For its first four years, the receivership concentrated on the first two; with some successes in place, it turned to costs.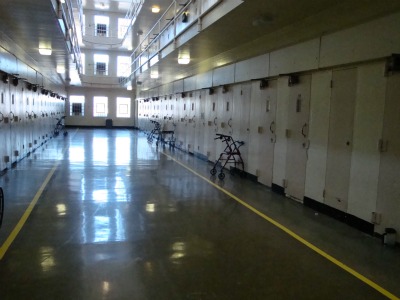 In 2010, Receiver Clark Kelso spearheaded a successful legislative campaign to lessen the financial burden of prison healthcare on the state budget. So-called medical parole—which came into force in early 2011—offered an alternative to an existing, but rarely used, "compassionate release" program to move permanently medically incapacitated patients out of the costly corrections environment and into community-based care facilities where no guards would be required. Kelso hoped the new law would mean significant savings to taxpayers in a state facing crushing budget deficits.
Kelso asked Dr. Ricki Barnett, his director for utilization management, to identify prisoners eligible for medical parole. To qualify, prison doctors had to vouch that the inmate was non-functional—able to live only with significant assistance, and by implication unable to re-offend. Importantly, most prison doctors deliberately refrained from knowing their patients' criminal records. Most of the candidates for medical parole came from the California Medical Facility (CMF), the state's prison for sick male inmates. It housed some 2,500 ailing men; of those, about 900 were over 50.[1] By November 2011, Dr. Barnett and the CMF leadership team had identified 41 prisoners statewide for medical parole; 27 were released into the community.
In December 2011, a new case came to Dr. Barnett's attention. Carl Wade had been at CMF since 2003. He was on an oxygen machine fulltime, and suffered from heart and lung disease. His care cost the system on average $200,000 a year. Barnett did not know his crime. But the court had turned him down for compassionate release. Wade was mentally alert; conceivably, he could mastermind a crime. It was impossible to predict how long he had left to live. Barnett and her medical team had to decide: should they support a request for Wade's medical parole, or not?