Cape Coral Utility Expansion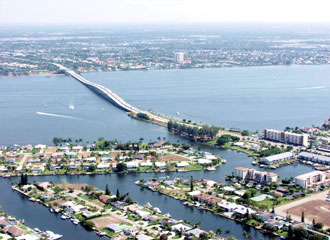 Cape Coral, with a population of over 160,000, was Lee County's largest city. For decades after it was founded in the 1950s, it was a small rural community that relied on septic tanks and groundwater wells rather than a centralized sewage system. Beginning in the 1990s, however, it had seen rapid residential growth. As new septic tanks and wells proliferated in expanding neighborhoods, the city faced two urgent risks: septic tanks threatened to contaminate the city's drinking water, while a steadily shrinking aquifer caused many wells to run dry.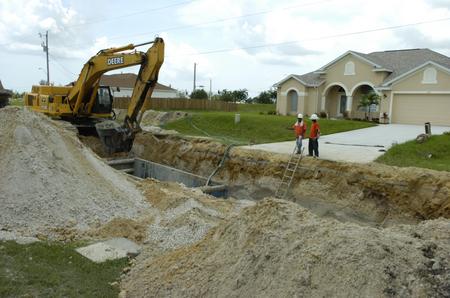 © 2006 Stephen Hayford In 1999, the City of Cape Coral undertook an ambitious construction project to install sewage, irrigation, and potable water pipes beneath all 105 square miles of the city. Initial estimates suggested that the project would last until 2017 and cost close to a billion dollars. [26] The city would require its residents, based on the size of their property, to pay a proportionate share of the utility expansion costs through what was called an assessment fee. Homeowners would also be subject to an impact fee, the cost of hooking up to the utility. State law required that all homes in the construction area connect to the new sewage and water lines upon their completion; irrigation hookups were optional.
In 2001, first assessments averaged about $11,000 per house site. In a city with a median household income below $44,000 a year, the fees sparked widespread complaint. By mid-2006, however, the assessment fee for a typical home site shot up to $22,000. [27]
Though the News-Press had, according to Executive Editor Marymont, "been reporting on [the utility expansion] for years," the growing community concern the rising costs generated brought new drama to the story. Cape Coral Bureau Chief Hayden recalls that readers were increasingly using news-press.com forums to complain about the construction's financial impact and criticize the city government: "People started getting onto our forums and... [saying]: 'How could the city government be doing this to us? There's nothing wrong with our septic systems. We don't need [sewers] now. Our wells are fine.'" It was in 2006, Hayden says, that "the human side of the story started to come out." [28]
One article that appeared in the News-Press in mid-June 2006 described a sobbing homeowner who told the City Council at a public meeting: "You're hurting us." [29] Managing Editor McCurry-Ross recalls:
These folks were in tears because the economic impact on their households was so huge that some were being forced to consider whether they would have to move, [or] whether they might get sued by the city government because they weren't going to be able to afford to pay these huge assessments.
The News-Press had been listening as the complaints grew in volume. Jeff Cull , an investigative reporter at the paper, recalls: "I had spent a good bit of time looking at [the utility expansion] and found a number of [suspicious] things, but there were a number of things that we just couldn't prove." Cull suspected that, at the very least, the City Council was wasting residents' money, paying too much for a job accomplished more cheaply just a few years earlier. But he did not have access to the accounting records that would help him determine how the money was being spent. He explains: "We just can't get some things without subpoenas." [30] Cull reported to Wells, Metro Editor of news-press.com, who remembers: "Jeff [Cull] kept saying, 'I can't get what I need... I just can't put my finger on what's going on here.'"
The utility expansion story seemed on balance the best candidate for crowdsourcing. For one thing, thousands of people were affected by the construction, which meant that the News-Press' Cape Coral readership could offer a wealth of information and diverse perspectives on the story. For another, as Cape Coral Bureau Chief Hayden notes, the city's population of 160,000 made reader help invaluable to the Cape Coral Bureau's staff of six. "There's no way we could possibly reach all those residents and do all that work without their help," Hayden says.
Cape Coral's demographics also seemed well-suited to an experiment with crowdsourcing. Cape Coral's population was younger on average than the rest of Lee County, with higher rates of Internet use. The News-Press ' Cape Coral "microsite"—the subsection of its website devoted to Cape Coral—had been active for a few months and had enjoyed considerable success with the city's residents.
Footnotes
[26] Jeff Cull, " Utility Projects Common In State, " The News-Press , September 30, 2006.
[27] The city also offered a 20-year payment option which, thanks to hefty interest payments, drove the final bill above $100,000.
[28] Author's interview with Tom Hayden, on August 14, 2007, in Fort Myers, Florida. All further quotes from Hayden, unless otherwise attributed, are from this interview.
[29] Don Ruane, "Assessments in Cape spark protest, tears," The News-Press , June 13, 2006.
[30] Author's interview with Jeff Cull, on August 16, 2007, in Fort Myers, Florida. All further quotes from Cull, unless otherwise attributed, are from this interview.