Biography: Kate Marymont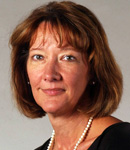 Kate Marymont became executive editor of the News-Press in February 2001. Previously, she had been executive editor of the Springfield News-Leader in Missouri.
Both newspapers are owned by the Gannett company, which Marymont joined in 1977. She began her career in her hometown of Springfield as a copy editor and reporter. Over the years she has been in many roles throughout newsrooms and has worked in Nashville, Tennessee; Little Rock, Arkansas; Wilmington, Delaware; and a return stint in Springfield before moving to Fort Myers.
Audio
Listen to Kate Marymont's reflections on using new technologies for old-fashioned journalism.
Length: 1 min 13 sec