Biography: Jeff Cull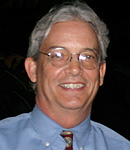 Jeff Cull became the executive editor of Fort Myers' Florida Weekly in 2007. He earned his bachelor's degree from the U.S. Naval Academy, Annapolis, Maryland and flew the Navy's carrier-based S-3 Viking. He began his journalism career in 1999 as a reporter at the News-Press . Prior to that he was president of a commercial construction company and on active duty with the U.S. Navy.
As an investigative reporter, Cull reported on the US government's handling of relief aid after Florida's disastrous hurricane seasons of 2004 and 2005 and investigated government abuses at the state and local level. His reporting on the Florida Department of Children and Families led to statewide changes. He won a number of First Amendment reporting awards and was nominated for the Pulitzer Prize.
Audio
Listen to Jeff Cull describe the early phases of covering the Cape Coral utility expansion.
Length: 57 sec