Biography: Mackenzie  Warren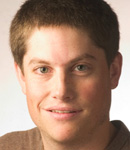 As the News-Press ' managing editor for information distribution, Mackenzie Warren oversaw the delivery of all editorial content across all platforms. Previously, Warren spent 18 months as deputy to the publisher for special projects, in which capacity he worked across departments on audience research and new product development.
Before joining the News-Press , Warren spent two years as online editor at the Rockford Register Star in Illinois. He chaired the newspaper's Cyber-Fiber Integration Committee and was also a member of its editorial board. During his tenure, RRStar.com was named the top news website in Illinois by the Associated Press. He has also reported for both the Chicago Tribune and the San Francisco Examiner .
Audio
Listen to Mackenzie Warren explain the pace of newsroom innovation.
Length: 59 sec