Biography: Don Ruane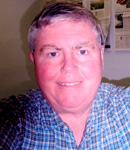 Don Ruane got his first journalism job in high school as a copy boy for the Press of Atlantic City in New Jersey. Ruane is a graduate of the University of Notre Dame and the University of Missouri-Columbia's Graduate School of Journalism. He joined Gannett in 1976, covering cops and high school sports for the Herald-Dispatch in Huntington, West Virginia.
Ruane moved to the News-Press in 1979 and has covered various beats, including cops, city and county, and transportation and growth; he also spent 13 years on the opinion page. Ruane covered City Hall for the Cape Coral bureau for nearly four years. His wife is a business reporter for the News-Press . He has three children and one grandchild.
Audio
Listen to Don Ruane describe the hazards of publishing reports online first and fast.
Length: 1 min 41 sec