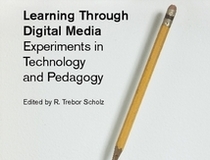 Jonah Bossewitch, CCNMTL lead technical architect, and Michael Preston, former CCNMTL senior educational technologist, co-authored a chapter entitled, Teaching and Learning with Video Annotations, for the recently released anthology, Learning Through Digital Media: Experiments in Technology and Pedagogy. Their chapter recapitulates the history of multimedia annotation projects at CCNMTL, focusing especially on the pedagogies and learning outcomes that have motivated CCNMTL's work over the years. The authors discuss curricular activities which have stimulated the development of our VITAL and MediaThread multimedia analysis environments.
Learning Through Digital Media was edited by New School Professor Trebor Scholz in preparation for the upcoming Mobility Shifts: An International Future of Learning Summit. The peer-reviewed book contains a series of practical applications of digital media to formal and informal learning situations, with a focus on teaching techniques across a range of services and tools. The "ambition of this collection is to discover how to use digital media for learning on campus and off. It offers a rich selection of methodologies, social practices, and hands-on assignments by leading educators who acknowledge the opportunities created by the confluence of mobile technologies, the World Wide Web, film, video games, TV, comics, and software while also acknowledging recurring challenges."
Learning Through Digital Media was published in March 2011 by the Institute of Distributed Creativity under a creative-commons license (CC-BY) and is available in a variety of formats, including hardcopy, PDF, ebook, and web-based. Both the anthology and the summit were sponsored by the John D. and Catherine T. MacArthur Foundation.
Related news:
Aug-29-2014: Fall 2014 Release of Mediathread Supports Secure Collections
Mar-11-2014: CCNMTL Joins Silicon Alley at NYEdTech Startup Showcase 2014
Jan-28-2014: The Spring 2014 Release of Mediathread is Live at Columbia
Jun-28-2013: Mediathread Presented at Digital Content Workshop in Philadelphia
Jun-25-2013: CCNMTL Presents Mediathread Data at Columbia Libraries Assessment Forum
May-28-2013: Get Ready to Dive In! Mediathread Summer 2013 Release is Here
Feb-19-2013: Spring Release of Mediathread Includes New Look, Course Migration Feature
Feb-13-2013: CCNMTL Staff Present Mediathread at THATCamp CAA "Unconference"
Sep-10-2012: New Privacy Options, Remodeled Collections In Fall Mediathread Release
Jun-26-2012: NMC Conference Attendees Get Hands-on with Mediathread
May-31-2012: New Mediathread Release Features "Sliding" Panels Interface
Jan-20-2012: Updated Version of Mediathread Released
Sep-20-2011: Fall 2011 Version of Mediathread Released
Apr-08-2011: Toward Open Standards for Digital Annotations
Mar-08-2011: New Features Added to Mediathread
Sep-30-2010: CCNMTL Presents at the Open Video Conference on October 2