The Columbia Center for New Media Teaching and Learning (CCNMTL) has released a new version of Mediathread, an open-source multimedia analysis platform developed by the Center. The Summer 2012 release features "sliding" panels that allow students and instructors to more easily access different sections of the site when creating and responding to assignments.
Mediathread connects to web-based image and video collections (such as YouTube, Flickr, library databases, and course libraries), enabling users to lift items out of these collections and into an analysis environment. Multimedia items can then be clipped, annotated, organized, and embedded into essays and other written analysis.
In the new interface, assignments, responses, and feedback - as well as media embedded into any of these three content types - are organized into panels that users can open and close as needed. Students responding to an assignment posted by an instructor can now reference the assignment and embedded media while composing a response. Instructors, in turn, are able to see both the original assignment and a student's responding composition when posting feedback.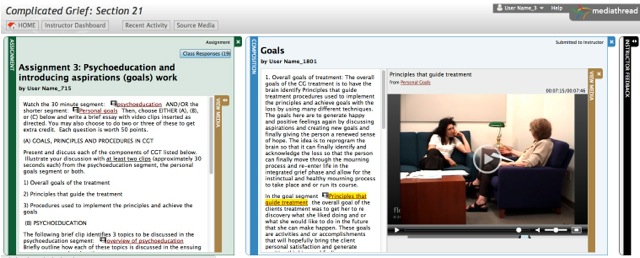 Mediathread sliding panels: assignment, response composition, and instructor feedback (closed)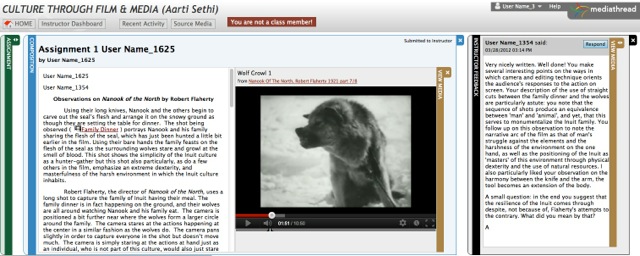 Mediathread sliding panels: assignment (closed), response composition, and instructor feedback
Other user interface improvements in the Summer 2012 release include redesign of the display of video and image selections within discussion boards.
The code for Mediathread is publicly available. The platform is now running at higher education institutions beyond Columbia, including MIT, The New School, Wellesley, and The American University in Cairo.
Columbia University instructors can get started with Mediathread by sending an email to ccnmtl-mediathread@columbia.edu.
Related news:
Aug-29-2014: Fall 2014 Release of Mediathread Supports Secure Collections
Mar-11-2014: CCNMTL Joins Silicon Alley at NYEdTech Startup Showcase 2014
Jan-28-2014: The Spring 2014 Release of Mediathread is Live at Columbia
Jun-28-2013: Mediathread Presented at Digital Content Workshop in Philadelphia
Jun-25-2013: CCNMTL Presents Mediathread Data at Columbia Libraries Assessment Forum
May-28-2013: Get Ready to Dive In! Mediathread Summer 2013 Release is Here
Feb-19-2013: Spring Release of Mediathread Includes New Look, Course Migration Feature
Feb-13-2013: CCNMTL Staff Present Mediathread at THATCamp CAA "Unconference"
Sep-10-2012: New Privacy Options, Remodeled Collections In Fall Mediathread Release
Jun-26-2012: NMC Conference Attendees Get Hands-on with Mediathread
Jan-20-2012: Updated Version of Mediathread Released
Sep-20-2011: Fall 2011 Version of Mediathread Released
Apr-15-2011: Anthology Features Chapter on Video Annotations
Apr-08-2011: Toward Open Standards for Digital Annotations
Mar-08-2011: New Features Added to Mediathread
Sep-30-2010: CCNMTL Presents at the Open Video Conference on October 2