CCNMTL's Jonah Bossewitch and Mark Phillipson delivered a presentation on Mediathread, the Center's multimedia annotation tool, at the 2012 New Media Consortium (NMC) Summer Conference. Their application was accepted to be one of only a handful of hands-on workshops offered at the conference.
The NMC conference is an annual event for professionals to explore and discuss the integration of emerging technologies in teaching, learning, and creative inquiry. This year's conference was held June 12-15 at the Massachusetts Institute of Technology.
At the workshop, Bossewitch and Phillipson demonstrated to a packed classroom how using annotation tools such as Mediathread in teaching and research can deepen analysis of rich media. Participants worked hands-on with Mediathread and learned how to embed web-based videos and images into course-based multimedia analysis.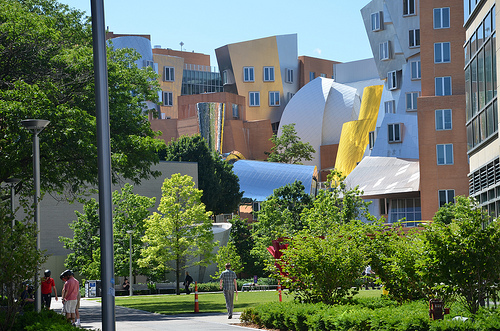 The New Media Consortium is an international community of experts in educational technology whose goal is to help hundreds of member universities, colleges, museums, and organizations drive innovation across their campuses. One of the NMC's main initiatives is the production of annual Horizon Reports, which cover technologies that will soon have an impact on education. Copies of the higher education Horizon Report are available for viewing in the CCNMTL Faculty Support Lab in 204 Butler Library. CCNMTL has carried the NMC membership for Columbia University since 2006.
NMC is offering a collection of videos of the conference through iTunes U that includes the opening keynote by Joichi Ito, director of the MIT Media Lab, and closing remarks by Lord David Puttnam, acclaimed film producer and chancellor of Open University. The videos are also available on NMC's YouTube channel.
Related news:
Aug-29-2014: Fall 2014 Release of Mediathread Supports Secure Collections
Mar-11-2014: CCNMTL Joins Silicon Alley at NYEdTech Startup Showcase 2014
Jan-28-2014: The Spring 2014 Release of Mediathread is Live at Columbia
Jun-28-2013: Mediathread Presented at Digital Content Workshop in Philadelphia
Jun-25-2013: CCNMTL Presents Mediathread Data at Columbia Libraries Assessment Forum
May-28-2013: Get Ready to Dive In! Mediathread Summer 2013 Release is Here
Feb-19-2013: Spring Release of Mediathread Includes New Look, Course Migration Feature
Feb-13-2013: CCNMTL Staff Present Mediathread at THATCamp CAA "Unconference"
Sep-10-2012: New Privacy Options, Remodeled Collections In Fall Mediathread Release
May-31-2012: New Mediathread Release Features "Sliding" Panels Interface
Jan-20-2012: Updated Version of Mediathread Released
Sep-20-2011: Fall 2011 Version of Mediathread Released
Apr-15-2011: Anthology Features Chapter on Video Annotations
Apr-08-2011: Toward Open Standards for Digital Annotations
Mar-08-2011: New Features Added to Mediathread
Sep-30-2010: CCNMTL Presents at the Open Video Conference on October 2