The Summer 2013 version of Mediathread, CCNMTL's platform for exploration and examination of web-based multimedia content, has officially been released! The newest version of the open-source platform features re-ordering of instructor compositions in the "From Your Instructor" column; creation of assignment due dates; prioritization of the center-column "to-do" list based on a smart, new algorithm; and the ability for instructors to remove Recommended Sources using the Manage Sources interface under the Tools menu.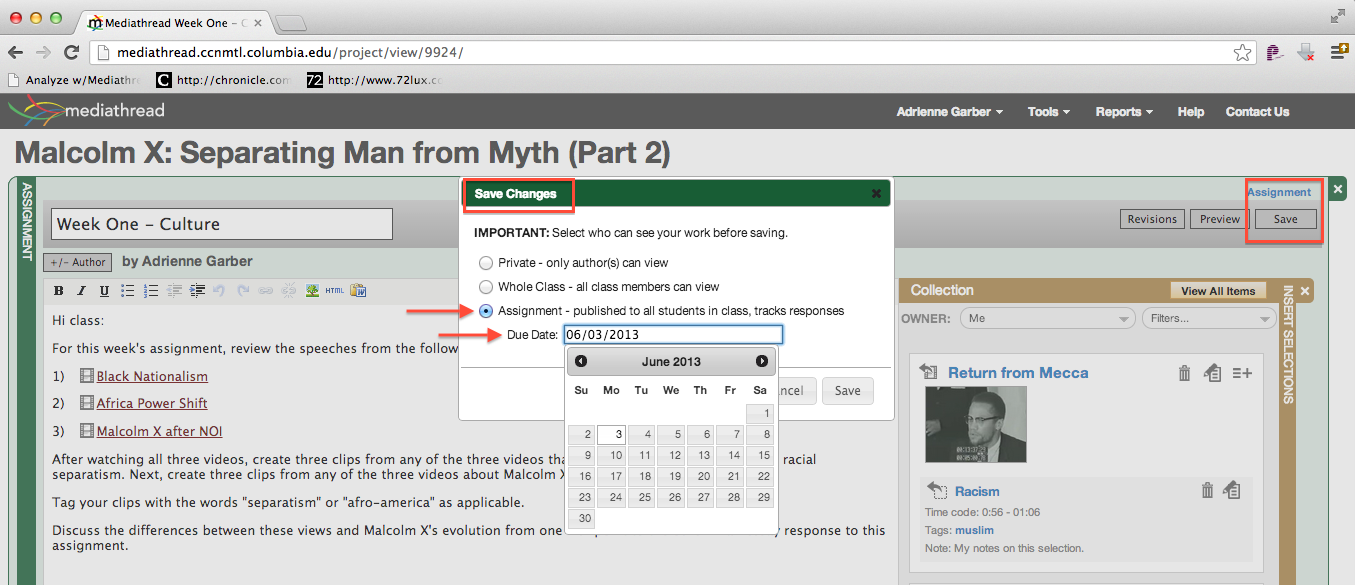 In addition, the refined Course Migration feature is working swimmingly. Instructors can easily import self-created assignments, compositions, items, and annotations from a previous semester's Mediathread course into a newly-created course using the Migrate Materials interface under the Tools menu.
Also, bookmarklet capabilities with popular web collections such as Columbia University's Academic Commons and the Google Art Project have been enhanced to collect items (and metadata associated with those items) into the Mediathread platform using the "Analyze with Mediathread" bookmarklet.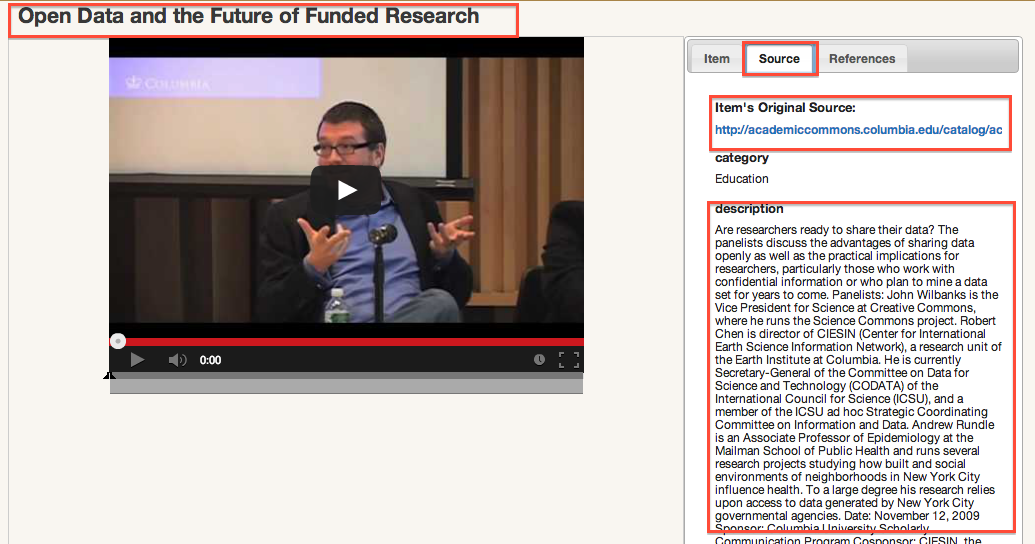 Since launching in Fall 2010, Mediathread has been used in over 200 classes at Columbia University and its affiliates, helping students to analyze multimedia materials closely across a wide array of schools and departments. As part of CCNMTL's design research cycle, the tool is currently undergoing an internal assessment effort that includes input from over a hundred faculty and students who used the tool during the Spring 2013 semester. Design decisions about the Fall 2013 development features will be informed by these assessment efforts.
The code for Mediathread is freely available at GitHub. For more information, including a demo video, please visit mediathread.ccnmtl.columbia.edu. Columbia University instructors can request Mediathread for their course by sending an email to ccnmtl-mediathread@columbia.edu.
Related news:
Aug-29-2014: Fall 2014 Release of Mediathread Supports Secure Collections
Mar-11-2014: CCNMTL Joins Silicon Alley at NYEdTech Startup Showcase 2014
Jan-28-2014: The Spring 2014 Release of Mediathread is Live at Columbia
Jun-28-2013: Mediathread Presented at Digital Content Workshop in Philadelphia
Jun-25-2013: CCNMTL Presents Mediathread Data at Columbia Libraries Assessment Forum
Feb-19-2013: Spring Release of Mediathread Includes New Look, Course Migration Feature
Feb-13-2013: CCNMTL Staff Present Mediathread at THATCamp CAA "Unconference"
Sep-10-2012: New Privacy Options, Remodeled Collections In Fall Mediathread Release
Jun-26-2012: NMC Conference Attendees Get Hands-on with Mediathread
May-31-2012: New Mediathread Release Features "Sliding" Panels Interface
Jan-20-2012: Updated Version of Mediathread Released
Sep-20-2011: Fall 2011 Version of Mediathread Released
Apr-15-2011: Anthology Features Chapter on Video Annotations
Apr-08-2011: Toward Open Standards for Digital Annotations
Mar-08-2011: New Features Added to Mediathread
Sep-30-2010: CCNMTL Presents at the Open Video Conference on October 2