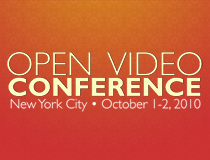 September 30, 2010. CCNMTL staff will be heading to the Open Video Conference this Friday and Saturday to moderate discussions and present on topics related to open video in education. Hosted by the Open Video Alliance, the Open Video Conference is an annual multi-day summit for thought leaders in business, academia, art, and activism to explore the future of online video. Featured keynote speakers include Susan Crawford, professor of law at Cardozo and former Obama advisor; Tim Wu, professor of law at Columbia Law School and chair of Free Press; and Michael Wesch, cultural anthropologist and professor at Kansas State University.
This marks the second year that CCNMTL has partnered with the Open Video Alliance to participate in the OVC's education track and, for the 2010 conference, CCNMTL played a larger role in developing and securing speakers for this track. On Saturday, October 2, CCNMTL staff members Mark Phillipson and Schuyler Duveen will join representatives from Opencast Matterhorn and WGBH in the "Tools for New Media Teaching and Learning" session. Phillipson and Duveen will share a sneak peak at MediaThread, CCNMTL's newly launched collaborative multimedia analysis environment. MediaThread will be unveiled to the Columbia University community at the upcoming New Media in Education 2010 Conference.
CCNMTL's Brian O'Hagan and Jonah Bossewitch will serve as moderators for this panel as well as the "Educational Video Services Strategy" panel, in which a multi-institutional group from Penn State University, Massachusetts Institute of Technology, University of Southern California, and University of Virginia will discuss their respective strategies for raising awareness of open video, improving student and faculty digital literacy, and impacting learning with digital media, as well as the technologies that support these activities.
View the full OVC Agenda, and contact ccnmtl@columbia.edu for a discounted registration rate.
Related news:
Aug-29-2014: Fall 2014 Release of Mediathread Supports Secure Collections
Mar-11-2014: CCNMTL Joins Silicon Alley at NYEdTech Startup Showcase 2014
Jan-28-2014: The Spring 2014 Release of Mediathread is Live at Columbia
Jun-28-2013: Mediathread Presented at Digital Content Workshop in Philadelphia
Jun-25-2013: CCNMTL Presents Mediathread Data at Columbia Libraries Assessment Forum
May-28-2013: Get Ready to Dive In! Mediathread Summer 2013 Release is Here
Feb-19-2013: Spring Release of Mediathread Includes New Look, Course Migration Feature
Feb-13-2013: CCNMTL Staff Present Mediathread at THATCamp CAA "Unconference"
Sep-10-2012: New Privacy Options, Remodeled Collections In Fall Mediathread Release
Jun-26-2012: NMC Conference Attendees Get Hands-on with Mediathread
May-31-2012: New Mediathread Release Features "Sliding" Panels Interface
Jan-20-2012: Updated Version of Mediathread Released
Sep-20-2011: Fall 2011 Version of Mediathread Released
Apr-15-2011: Anthology Features Chapter on Video Annotations
Apr-08-2011: Toward Open Standards for Digital Annotations
Mar-08-2011: New Features Added to Mediathread