A new version of Mediathread, an open-source multimedia annotation and composition tool created by the Columbia Center for New Media Teaching and Learning, was released for the Fall Semester. This release is part of continuing development of the tool, which was first released in 2010. New features for the fall include:
A new privacy setting that allows instructors to select whether or not students in a course can see each other's annotations.
A remodeled "Collections" interface, including a full-collection view for easier browsing and collection management.
An improved annotations interface that dynamically links item editing and collections and makes both available on one screen.
In-place item and selection editing available in the composition space.
More contextual help, indicated by blue "i" icons, with tips on using different parts of Mediathread.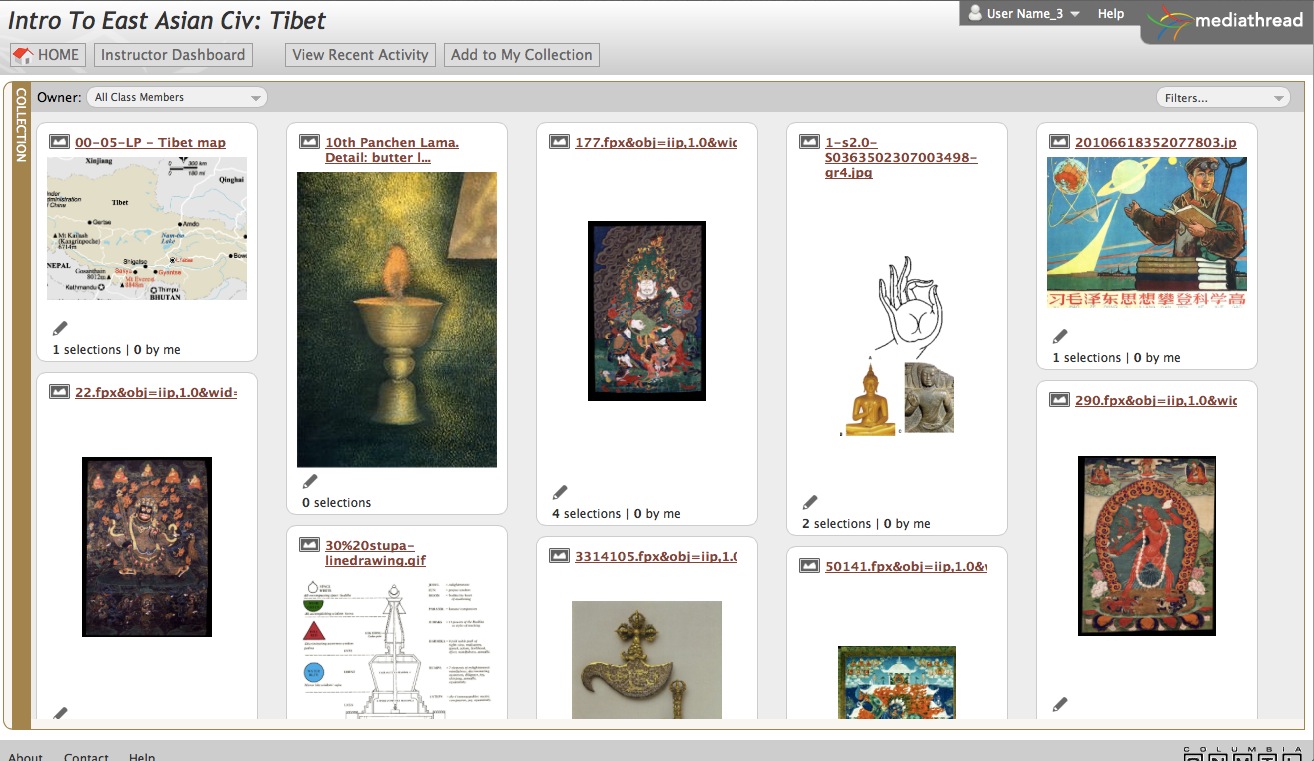 The open-source code for Mediathread is now in use at higher education institutions beyond Columbia, including MIT, The New School, Wellesley, and The American University in Cairo.
More information, including a demo video, is available at mediathread.ccnmtl.columbia.edu. Columbia University instructors can get started with Mediathread by sending an email to ccnmtl-mediathread@columbia.edu.
Related news:
Aug-29-2014: Fall 2014 Release of Mediathread Supports Secure Collections
Mar-11-2014: CCNMTL Joins Silicon Alley at NYEdTech Startup Showcase 2014
Jan-28-2014: The Spring 2014 Release of Mediathread is Live at Columbia
Jun-28-2013: Mediathread Presented at Digital Content Workshop in Philadelphia
Jun-25-2013: CCNMTL Presents Mediathread Data at Columbia Libraries Assessment Forum
May-28-2013: Get Ready to Dive In! Mediathread Summer 2013 Release is Here
Feb-19-2013: Spring Release of Mediathread Includes New Look, Course Migration Feature
Feb-13-2013: CCNMTL Staff Present Mediathread at THATCamp CAA "Unconference"
Jun-26-2012: NMC Conference Attendees Get Hands-on with Mediathread
May-31-2012: New Mediathread Release Features "Sliding" Panels Interface
Jan-20-2012: Updated Version of Mediathread Released
Sep-20-2011: Fall 2011 Version of Mediathread Released
Apr-15-2011: Anthology Features Chapter on Video Annotations
Apr-08-2011: Toward Open Standards for Digital Annotations
Mar-08-2011: New Features Added to Mediathread
Sep-30-2010: CCNMTL Presents at the Open Video Conference on October 2